Lutronic LaseMD Collagen Resurfacing
What Is LaseMD?
LaseMD is a Fractional Non-Ablative Laser – which means that it uses laser energy to create micro-channels in the skin through which it works its effects. These micro-channels stimulate the body's natural production of collagen and elastin, which helps to improve the overall health and quality of the skin at a cellular level.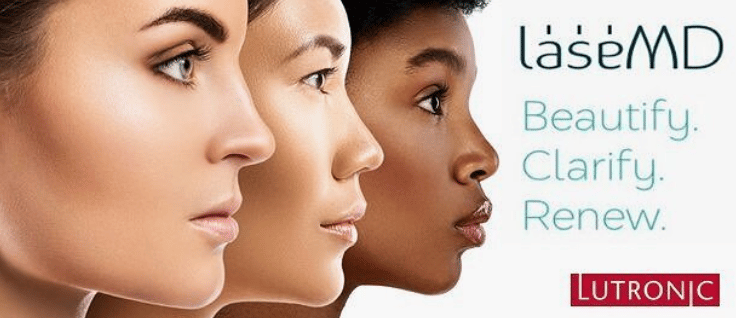 LaseMD skin resurfacing treatments can be used to improve a wide variety of common skin concerns and imperfections, including treating active acne and acne scarring, sun damage and melasma, fine lines, uneven skin tone and texture, and even tightening skin! LaseMD is great for the neck, upper chest, arms and hands. If you want a laser that will reduce damage accumulated over years of sun exposure, but not have downtime, LaseMD is for you.
Advantages of LaseMD compared to other laser skin resurfacing treatments:
Improves the appearance of rough, coarse or uneven skin texture
Removes and reduces wrinkles and fine lines
Reduces acne and acne scarring
Removes moderate to severe sun damage
Treats Melasma in any skin type
Minimal downtime
How Many Treatments Do I need?
The amount of treatments needed will depend on your consultation with Dr. Rogers.
What Can I Do Post Procedure?
Spf and calming cream should be applied after the procedure. Minimal exposure to sunlight and no sweating for up to 24 hours. No face makeup, tanning, or physical activity for the first 24 hours. Refrain from getting additional laser work 7 days prior and post treatment.
What Does It Treat?
Aging
Fine lines
Wrinkles
Sun damage
Melasma
Enlarged pores
Skin texture
Uneven skin tone
Pigmentation
Sun damage
How Long Are Treatments?
Treatments are about 30 minutes long
Recovery Time & Side Effects?
4-6 days of minimal downtime. Potential swelling post treatment.
When Do I See Results?
Our clients experience redness after initial treatment but results can be seen a week later. Results often can be seen months following the treatment as well.