What is Emsella?
Do you suffer from Urinary Incontinence? If so, you have probably realized by now that there aren't many ways to treat it aside from kegels. Luckily Emsella is the much needed relief that can treat stress urinary incontinence (SUI). Emsella is FDA-approved for treating urinary incontinence along with vaginal laxity. Studies have shown Emsella to improve (SUI) by 95%.
Emsella can treat the following:
Urinary leakage
Involuntary Urination
Urination that occurs while asleep
Sudden urges to urinate
Restore neuromuscular control by strengthening the deep pelvic floor muscles
How Does It Work?
Emsella works by strengthening the pelvic floor. A weak pelvic floor is directly related to bladder leakages, urinary urgence, and involuntary leaks. Emsella utilizes high-intensity focused electromagnetic technology (HIFEM) Technology", to stimulate, strengthen, and restore neuromuscular control to deep pelvic floor muscles. The HIFEM energy stimulates the pelvic floor muscles which are responsible for controlling the bladder and urinary tract. Emsella stimulates 11,000 kegels 30 minutes which will strengthen the pelvic floor and greatly reduce leakage.
Consultations?
After your consultation with Dr. Rogers, we will create a custom plan to accommodate your needs. This will include going over your history with urinary incontinence, medications, and your lifestyle. Then the Doctor will determine how many treatments are required. Our goal is to get the most out of every treatment.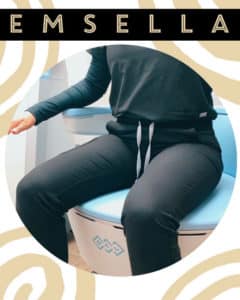 What Does A Treatment Look Like?
Emsella is completely non invasive. You will remain fully clothed for the entire 30 minute treatment. The treatment will require you to sit on a chair. The pelvic floor region will experience intense contractions to strengthen the pelvic floor. Previous patients have explained the experience as a buzzing feeling. The best part is that the treatment is entirely pain free.
Is There Any Downtime?
After your emsella treatment you may carry out your day as you normally would. There is no downtime after treatments.
How Long Till I See Results?
Emsella involves the strengthening of the pelvic floor muscles by stimulating involuntary contractions in the pelvic region that wouldn't be possible on your own. Muscle strengthening takes time and is progressive. We recommend starting with 6 treatments over a 3 week period to maximize results. This would involve 2 treatments per week consistently.
As you continue treatments, you will notice your symptoms improving and less leakage. This is because after a series of treatments, your pelvic floor will be much stronger and allow you to be in control of the pelvic region.
How Long Will My Results Last?
The results on Emsella depend on a variety of factors. Each patient is unique and factors such as your age and treatment plan will greatly dictate how long your treatments last. Patients can expect results to last up to eight months. Patients undergoing consistent treatments will have the best results. Maintenance treatments are recommended to sustain the pelvic floor strength over long periods of time.
How Do I Know If I Am A Candidate?
Patients who struggle with urinary incontinence and have their daily lives affected by it should seek out treatment. Patients who have given birth and endure menopause are likely to struggle with urinary incontinence. Patients who have severe heart issues and are pregnant can not be treated. Please consult your medical history with the doctor during your consultation.
No More Suffering From Urinary Incontinence
Millions of people are affected by urinary incontinence and are not sure how to treat it. Thanks to Emsella, you can go back to living comfortably and leakage free.