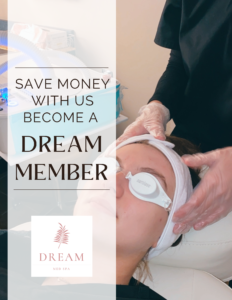 10% Off All Spa Services

Skin Care Products
Laser Treatments and Packages
Body Treatments and Packages
Wrinkle Relaxers
Face Fillers
Facials and Peels

Exclusive access to member only events with discount pricing, raffles, and demos!
Entire year of services mapped out and custom tailored!
Membership Information and How to Join
One Time Startup Fee: $99 charge and is not applied to membership wallet
Monthly Membership: $149 per month
Membership Wallet: Excluding the start up fee, $149 per month will be banked in your personal Dream Med Spa wallet and can be used towards future purchases.
Cancellation Policy: All memberships require a 90 day notice to cancel.
First Time Purchase: One year paid in advance will result in no sign up fee.
Please note: Member pricing cannot be combined with any other discounts. All purchases are final and non refundable. Aspire rewards are allowed. We reserve the right to modify, add or change member perks for any reason at any time.
To join our membership program please come to our office or call us at (815)-369-0039.