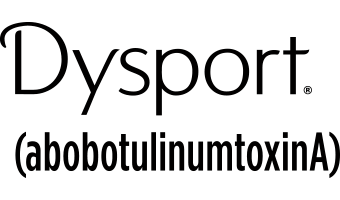 Treatment Time: 30 Minutes
Longevity: Up to 3-6 Months
Recovery Time: None
Dysport® is Galderma's (the makers of Restylane) version of BOTOX®, but it is still abobotulinumtoxinA! Dysport® is a muscle relaxer! Patients often use Dysport® for problem areas in the forehead, upper eyelids, neck, and the brow area.
Difference Between Dysport® and BOTOX®?
The amount of Dysport® needed is dependent on the number of units which is determined and advised by the Doctor. A unit of BOTOX® is equal to about 3 units of Dysport®.
Does Dysport® Hurt?
Most people report no pain at all with Dysport® injections. The needle used for Dysport® is much thinner than the average needle such as those used to draw blood.
Common Area Treated by Dysport®?
Crow's Feet (around the eyes)
Square Face (Masseter Muscle which is around the jawline)
Forehead Lines
Frown Line (between the eyebrows)
Hyperhidrosis- Excessive sweating under the arms. Usually requires around 100 Units)
Temporomandibular joint dysfunction (Jaw pain, difficulty chewing, and clicking and locking of the jaw joint are some of the symptoms)
Lip Flip
Who can get Dysport®?
Dysport® can successfully treat dynamic wrinkles for both men and women. Anyone frustrated by the early signs of aging would benefit greatly from Dysport®. Dysport® is safe for all skin types and ethnicities.
How Long Will My Results Last?
The benefits of Dysport® will take several days to appear. Full wrinkle reducing results can be seen in 10 to 14 days. The tissue will continue to look smooth and relaxed for up to three months. When the results begin to fade, a repeat Dysport® treatment will be needed to maintain a youthful appearance.